Advantages of using ultrasound
Ultrasound allows for a very accurate approximation of the female pelvis, with all the structures that comprise it, including organs and support structures. The emergence of the three-dimensional ultrasound has provided insight into the female muscular structures that until now could only be seen using resonance imaging.

Ultrasound is an anatomical and functional test, since it allows professionals to see how the muscular structures behave dynamically while patients are performing the Valsalva manoeuvre or contraction. In addition, it is a safe, comfortable, inexpensive and reproducible test (1) (with reference to MRI for the diagnosis of levator ani injury) and has good interobserver correlation (2). MRI for its part, despite offering very good anatomical images, is an expensive technique and performing it dynamically is complicated.

Apart from this, it is important to bear in mind the following two points: first, that there is already evidence that ultrasound is useful in several aspects of pelvic floor pathology; and second, that research is still under way on even more ways in which it could be implemented. We will attempt to break down these points while keeping in mind that ultrasound, despite being an up-to-date and indispensable tool in pelvic floor units, must always be used in conjunction with patient history and especially with a clinical examination.

Using ultrasound, we can conduct studies on:
The assessment of post-void urine volume (post-void residual)
The differentiation between a mobile and immobile urethra
The diagnosis of anal sphincter injuries (for which endoanal ultrasound is currently the gold standard)
Screening methods (using transperineal ultrasound) for patients who may need further study
Revealing defects difficult to assess by clinical examination alone, such as an enterocele
Levator ani injury in the form of avulsion or hyper-distension of the urogenital hiatus area (Ultrasound allows us to identify these types of injuries. Levator ani injury is one of the biggest risk factors for the onset of prolapse.)
The assessment of mesh surgery complications (for which ultrasound is crucial)
Risk factors, including antepartum ultrasonographic parameters, in order to avoid vaginal delivery in at-risk women (studies are currently under way)
Figure 2. The image depicts a normal urogenital hiatus area (A).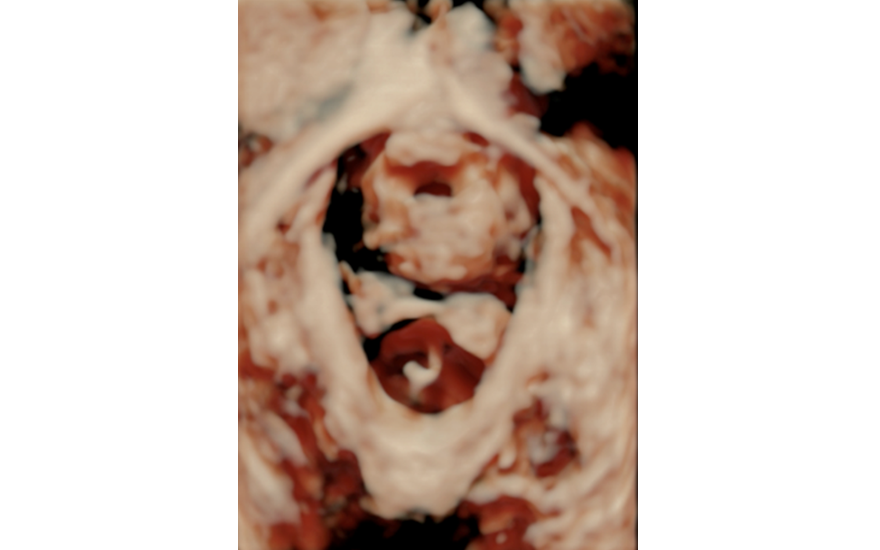 Bibliography
1. Calderwood CS, Thurmond A, Holland A, Osmundsen B, Gregory WT. Comparing 3-Dimensional Ultrasound to 3-Dimensional Magnetic Resonance Imaging in the Detection of Levator Ani Defects. Female Pelvic Med Reconstr Surg 2018;24:295-300.

2. Dietz H. Quantification of major morphological abnormalities of the levator ani. Ultrasound Obstet Gynecol 2007;29:329–34